Introduction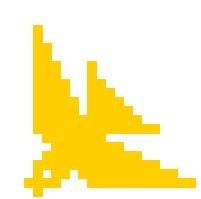 After working in New York's interior design industry during the 1970s, Jacqueline Resley (a University of Kansas Fine Arts graduate) took a leap of faith. She flew to London one Summer and then explored Europe a bit. Next, she hitch hiked all the way to Kenya — via Spain, Egypt, Morocco and points in between. The story of her journey is worthy of a best seller.
Kenya's diversity (people, landscape, weather, and wildlife) piqued her interest so much that she decided to settle and pursue her dream of starting a textile and pottery business, selling only the finest quality home decor in the region. At its peak, Weaverbird and Kinanda Ltd (the pottery division) employed up to 75 well-trained workers who created a wide array of beautiful hand-woven textiles, home decor and pottery for the thriving Travel industry (hotels, lodges, restaurants, etc.).
Moreover, the operation supported approximately 200 spinners throughout Kenya. By the way, one of Weaverbird's biggest projects was a contract in Tanzania to refurbish 4 hotels. They made all of the carpets, wall hangings, upholstery, curtains and bedspreads — right here in Kenya.
Customers will be happy to know that nothing (textiles, pottery, home decor, clothing, etc.) leaves the factory unless it measures up to Jacqui's extremely high standards for design and quality. This, in a nutshell, is the Weaverbird trademark. Perhaps being part of the design team (her former husband was the lead architect) that designed, arguably, one of Africa's premiere landmark — the Kenyatta International Conference Centre — might have something to do with her knack for "designing" things in a "creative" manner.
Always thinking of the next big thing, Jacqui envisioned the concept of Spinners Web with 2 friends in 1985. She has nurtured it (financially and with her no-nonsense business operations skills) to its present form. Now, she's overseeing expansion plans that will see the "one-stop shop" double in square footage, which will also include a cafe serving delicious refreshments.
Without a doubt, Weaverbird is the largest vendor at Spinners Web. In a few months, things should get even more busy once the expansion is complete. This should translate into more happy customers and greater sales for Spinners Web, its vendors, and, of course, Weaverbird.
Product Pics
[nggallery id=7]
Contacts
Jacqueline Resley (Managing Director, Product Designer)
P.O. Box 14170-00800 Nairobi, Kenya.
Mobile: +254 733 729 788
Tel: +254 20 2017275 /6
Email: bird (at) kenyaweaverbird.com
Website: www.kenyaweaverbird.com