The question we get asked more often than any other these days is . . . "Is the construction done?" And – the answer is — almost! It's so close to being done that we can taste it! We'll be sure to let you know just as soon as you can come explore not only the expanded space, but all the changes in our existing space as well – new vendors, new products from existing suppliers, and a coffee shop soon to follow.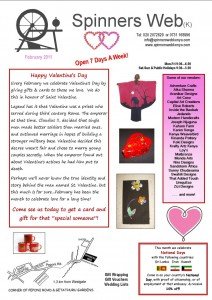 February is the month for love – check out the history of Valentine's Day in our attached newsletter, and come in to see the vast array of gifts to chose from!
Happy Valentine's Day, from all of us here at Spinners Web Kenya!